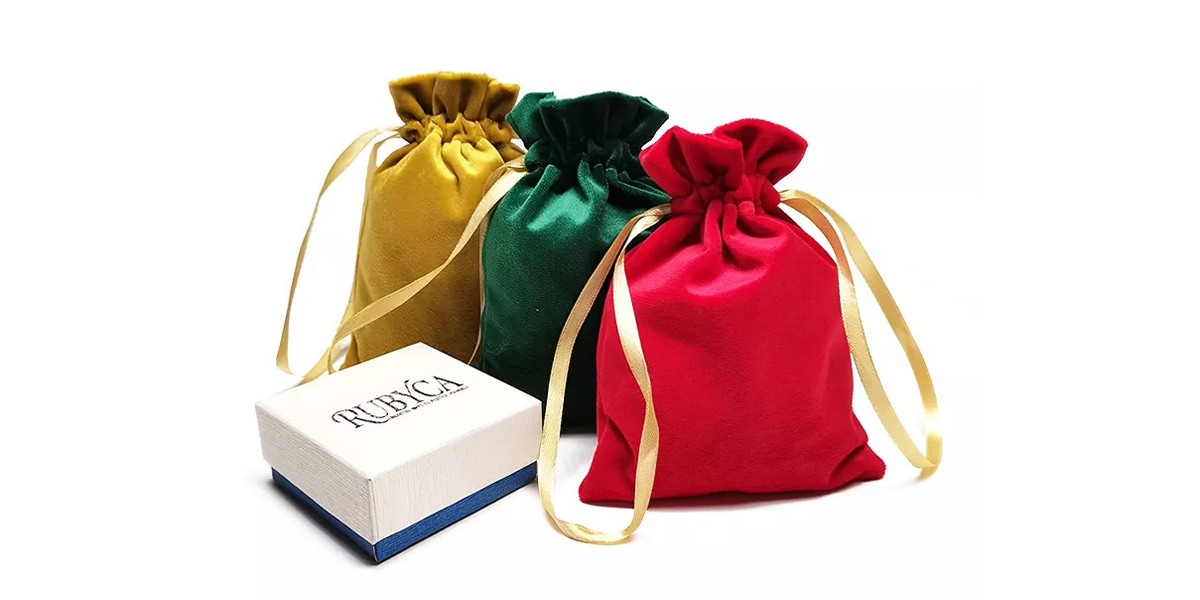 Velvet is the most commonly used fabric material for jewelry packing and for packaging small gifts. More recently, the demand for velvet pouches has increased in a dramatic way. Among other benefits, these bags are environment friendly and are made to be reused many times. So, what are velvet pouches and what are their advantages, and applications? Find answers to these questions here.
What are Velvet Pouches?
Velvet pouches are made of a fiber fabric that mostly comprises polyamide fiber and nylon. A velvet bag features a fluffy and rich cotton fabric as its surface.
As mentioned above, these pouches are mostly designed to be jewelry pouches. Velvet has a reputation for its unique lightweight properties. Some of the properties of a sewed velvet pouch are as follows:
Flexible
Delicate
Compact
Convenient
A drawstring closing feature further enhances the functionality of a velvet pouch.
Benefits of Velvet Bags
Some of the main benefits of velvet pouches that make them so special and widely popular as jewelry bags are as follows:
They feature a soft texture. The material is luxurious to both look at and touch.
Velvet can blend perfectly in with a wide range of décor styles.
Velvet pouches are also great accessories to be used during the winter months.
Velvet is such a versatile material that it finds widespread application in other areas as well. This also includes interior décor applications. It can instantly add a feeling of luxury to any room. The softness and versatile color options further make velvet a great fabric that can be worn all year long.
As a material, velvet offers additional benefits that make it an even more versatile fabric. Velvet can be printed upon using single-color printing or hot gold foil techniques. This means that these pouches are available with a wide range of characters and patterns printed on them. This can also provide customization options with the bags.
Applications of Velvet Pouches
Velvet is used in making pouches and purse sets. You can find bags in a wide range of designs, styles, and with all types of prints. Besides placing wholesale orders, you can also use them as gift sets. Some of the various applications of velvet pouches are as follows:
Velvet drawstring bags can be used for keeping jewelry, gemstones, and other precious gifts.
Velvet pouches can be used for keeping party favors, wedding favors, bracelets, rings, watches, necklaces, jade, perfumes, cosmetics, flowers, incense, candy, Buddha bead, and more.
They can also be used for keeping bridesmaids' gifts.
They can also serve as goodie bags for baby showers.
You can also use velvet bags for holding make-up essentials. Besides they can also act as statement pieces that hold your wallet and/or phone. Velvet pouches can blend perfectly in with a maxi for your date night or a cardigan. Additional applications include a pencil case, wallet, toilet bag, and clutch, to name a few.
Thus, there are many ways to use velvet bags. They are versatile, convenient, easy to use, luxurious, elegant, and have so much more to offer.