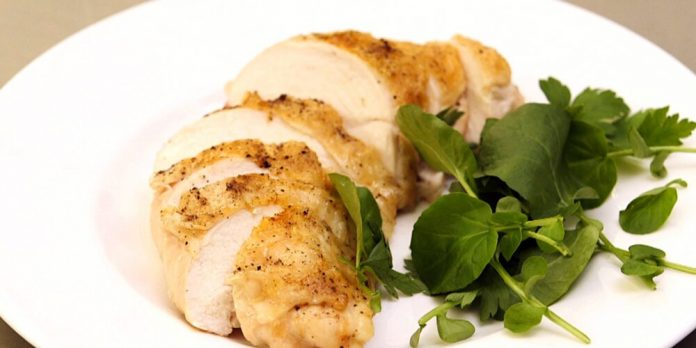 Perhaps you want to cook oven-baked chicken breast, but you are unsure of the correct method to make it juicy and delicious. Well, this post highlights the tips to make sure you are cooking chicken safely in a suitable condition.
It would be best to have a simple homemade chicken marinade for your chicken breasts before baking them in the oven to keep them tender. You should also be careful when cooking the chicken breasts because undercooking or mishandling them could lead to trouble. Therefore, you need to pay attention to time and temperature when cooking the chicken breasts to eliminate possible contagions in the chicken.
Beware that the baked chicken breasts contain many proteins, and they are simple to prepare. You need to add some oil and herbs then put them in the oven. This is a recipe that you will find easy to understand, and you might be using it again and again. The resulting dish appears naturally lean and juicy to serve on a pan with other meals and a salad.
When you place the chicken breast in the oven, ensure that you regulate the temperature correctly to seal in the juices ensuring that you don't overcook.
How long should you bake the chicken breasts?
As mentioned earlier in this post, temperature and time are critical requirements that require attention when baking chicken breasts. Since the chicken breast is lean meat, make sure you don't overcook them because they will turn out to be dry.
Boneless skinless chicken breasts usually require high temperatures. Be sure to regulate the heat levels to around 400 degrees Fahrenheit to seal the juices in while you cook. You need a quick read meat thermometer to measure the exact temperature for the cooking process.
Size matter when baking chicken breasts
Baking the chicken breasts at 400 degrees Fahrenheit will take around 25 minutes to cook. However, size matters, and this means larger chicken breasts will take longer to cook. In this case, you need to monitor the internal temperature to ensure that the chicken breasts cook safely for consumption. The recommended internal temperature should be around 165 degrees Fahrenheit. You can also use a meat tenderizer to pound your chicken breasts if they are thick to ensure that they cook evenly.
Once you bake the chicken breasts successfully, make sure you rest them for around five minutes before you start cutting. This will allow the juices to reabsorb into the meat keeping the chicken breasts moist and delicious.
Seasoning the chicken breasts
Seasoning the chicken breasts makes them mildly flavored. You can choose to use chicken marinade or brine to make them tender and juicy. Other things that you can use to season chicken breasts include salt and paprika (Italian seasoning), Cajun seasoning, taco seasoning, or a mixture of salt, pepper, olive oil, and fresh herbs that contain lemon zest.
The following is a summarized recipe for baking chicken breasts:
Preheat your oven to achieve a temperature of 400 degrees Fahrenheit.
Put your chicken breasts in olive oil, herbs, and spices of your preference.
Grease your baking pan slightly to prevent the chicken from sticking
Bake the chicken breast in an oven for around 25 minutes
Rest the final dish for some minutes before slicing them.
You can now serve baked chicken breasts which is a healthy meal packed full of proteins.