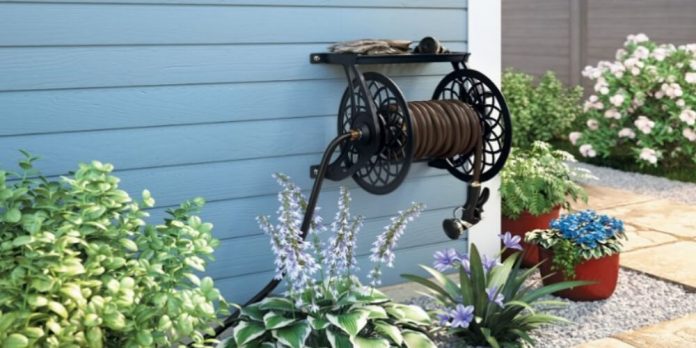 It is vital that you buy the best garden hose reel. This will make your watering activity easier. There are different types of reels available on the market. These are the things you should take into account to make the process easier for you.
Type of Garden Hose Reel
With different types of garden hose reels available, it can be challenging to know the right type. The common ones include cart-mounted and wall-mounted versions. Also, you can find cabinets.
Wall-mounted reels are considered to be sturdy and come with the hardware needed for easy installation. Ideally, they are simple and appear like an arched structure. Also, the hose can be looped until it is needed. Some of these models come with handles that make it easy to wind the hose and keep it.
The cart-mounted reels allow for easy storage and movement of your hose. Although it looks like a decorative unit, it is quite useful. It comes with large wheels that make it easy to move around your garden.
The other type of garden hose reel is the hose cabinet. This is decorative but stationary. You can think of it as a small box in your garden. Usually, it is fitted with a crank mechanism that retracts the hose back automatically.
Retractable
Nowadays, you can find hose reels that have a retracting system. The good thing about this is that you do not have to keep winding up your hose after use. This saves you time and energy. With non-retractable reels, you need to manually put your hose back. You need to wind it up, and this allows you to roll it.
Width and Length
You should pay attention to the length and width of the hose. The common hoses come with a 5/8-inch diameter. This is meant to allow for water flow and pressure. There are also ½-inch and ¾-inch options. Remember that a wider hose will allow more water to pass through but takes up a lot of storage space. The length is also important as it ensures water gets to all parts of the garden. It is vital to get a hose reel that can keep your hose protected and organized.
Material
Garden hose reels can be made of a range of materials. For instance, you can find reels made of PVC or metal. The carts and cabinets can be made of aluminum and stainless steel. Also, the cabinets can be made of heavy-duty plastic. It is advisable to get cabinets made of non-corrosive materials, such as stainless steel and aluminum.
Durability
Make sure you purchase a reel that is durable. You need to use it for many seasons. Make sure you purchase a new hose reel that is made of tough materials. Remember that your hose reel should withstand different weather conditions. Other than being durable, it should be easy to use and maintain.
Installation
Your garden hose reel will come with screws and attachments. Make sure you get accessories that are compatible with the material. For instance, you can get screws that can be drilled into concrete, brick, and wood.