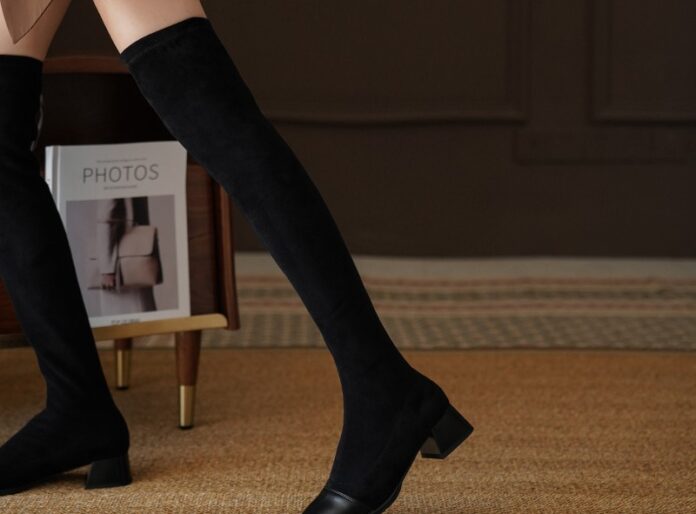 Boots can cost you an arm and a leg, reason why you should get it the right first time. You want a pair that flatters you keeps you warm and is comfortable so you can push through the day withstanding the heel. But there is so much drama behind the over the knee boots you need to uncover. No one will ever let you know that boots have got different fittings. Purchasing them oblivious of this fact puts you at risk of presenting as ridiculously horrible.
While some OTK's are elastic and the shaft fits well, some can dampen your spirit and never want to own a pair again. The laces loosen and pull back to resemble willies or add bulkiness to leave an unimpressive look. You want to rest such mishaps by acquiring a piece with a tight shaft that stays up and allows you to juggle between casual and professional.
Current boots accentuate your legs and pair well with skinny jeans, leggings, and short skirts that sit slightly above the knee. You don't need to fret about the vulgar everyday looks in the streets. Just stick with the rules, and you will be surprised by how classy and versatile they are.
When buying your OTK boots, keep the following guidelines in mind;
Stylish over the knee boots feature classic materials
Suede or leather pricing might scare you, but the experience beats all the other brands. They last longer and seem to add on a layer polished look as time gets by, for starters. Also, if you are lucky to land a pair that fits like gloves, you'll not rest them during fall. They are super comfortable and compatible with numerous outfits.
To pull a classy, fashionable look, opt for cool shades rather than bright colors. Brown and black boots send a strong statement of timeless elegance and don't scream for attention. Bright and shiny boots tend to present you as flashy and require you to choose your outfits thoughtfully to tone down the screaming effects.
Flat heels work better with the over the knee boots; everyday boots
Ideally, boots are worn for prolonged hours, especially when it's freezing, and you want to keep yourself warm. Raised heels may not be practical, for that matter. It would be best to have something comfortable to walk around with because a high heel can stand in the way. You will end up shoving them aside when the pain gets unbearable.
Platform boots house all the comfort you ever need when having fun in and around the ranch. You can give it a touch of classiness when out on official duties by donning monotone coats. Too many layers create an impression of a busy look when you want to upgrade your boots. Incorporate outfits with well-defined hemlines to pull a sophisticated look.
Over the knee boots with high heels elongates your legs
An excellent way to add elegance to your dressing is to go for a boot that flatters your leg. You will want something that fits well and tricks the eyeballs to believe that your legs fit the runway bill. Pick boots that hug your legs and sit nicely on your thighs. This way, they present you as stylish, and you can flaunt them on several occasions.
Final thoughts
Winter outfits would sound incomplete without over-the-knee boots. Since their inception, this kind of shoe has continued to gain popularity, and they seem to offer a perfect alternative to sneakers. They are elegant, and you can wear them to virtually all occasions. To look even more stunning, go with a pair that fits into the theme of your dressing, and you won't disappoint.