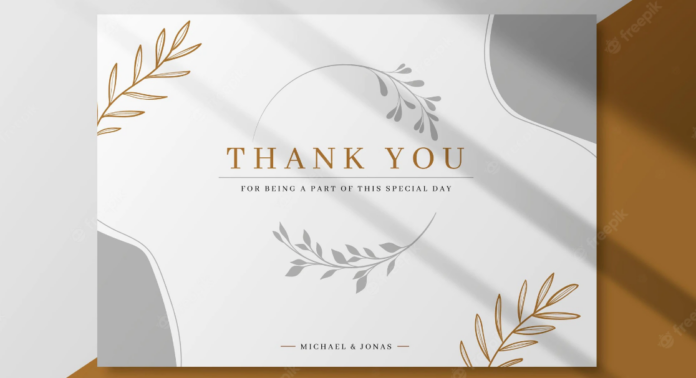 A thank you note is a nice way to show your appreciation for someone. It's also a good way to keep in touch with people after a function.
What you say in a thank you note:
The most important part of any bulk thank you cards is sincerity. If you're writing simply to be polite, that's fine. But if there's something specific you want to say or convey, it will come across much better if it comes from the heart.
The wording:
You don't need to write an essay, but try to make your note sound like something more than just "thanks." Saying "thanks" doesn't have to be a sentence all by itself — try adding another sentence or two about why you're grateful and how much the gift meant to you.
Most Unexpected Thank You Card Ideas
With so many options, it can be hard to decide which one is right for your recipient. So here are some of the most unexpected thank you cards that will help you find the perfect way to show your gratitude.
Wine Card
The wine card features a beautiful image of grapes and vines on a white background and says "Thank You!" The inside of the card reads "For all your help and support!" This card is great because it can be used for almost any occasion, from birthdays to weddings.
Cookie Card
This sweet card features an image of a cookie jar filled with cookies next to a glass of milk and says "You Rock!" The inside of the card reads "Thanks for everything!" If you have a friend who loves sweets or enjoys baking as much as you do, this is definitely something they will appreciate!
Banknote Card
This is a cute way to say thank you to someone who has made a big purchase for you, like your wedding or engagement ring. You can make it even more personal by using their initials or wedding date on the card!
Emoji Card
Emoji cards are great because they're fun and easy to make! All you need is some craft paper and some stickers (or printouts) of different emoji faces. You can also use foam stickers for added dimension and texture.
Photo Card
If you want something that's more personal than a standard thank-you note, try making a photo card instead! All you need is an envelope, some photos from the event that prompted your gratitude, and glue. Put the pictures in order according to when they were taken during the event, then write a short message on top of each one: "Thank you for coming!", "We had so much fun!",
Conclusion
Whether you're looking for something simple or more creative, there are plenty of thank you card ideas out there to choose from. And don't forget, the most important part is to make sure your message comes from the heart! Thanking someone should never be taken for granted.